Your Photo, Your Plate. Order your Permanent Custom Photo Plates Here
Many dish styles and different sizes of plates to choose from, to make your own Photo Plates.  Surely you can see the beauty of having your own designs, giving you obviously one of a kind, unique printed photo plates.
Typical Dishware Sizes
The most common plates we print is either a 10.5 inch dinner plate and the 7.5 inch salad/dessert plates.   These are rimmed porcelain plates. (we also print on the back of plates as well)
Furthermore Typical Dishware Lines
Rimmed plates in our Royal White Standard-inventory of Dishes. And they are 12 inch chargers, 10.5 inch dinner plates, 9.5 inch small dinner or lunch plate, 8 inch side plate, 7.5 inch dessert/salad plate and 6.25 inch bread plate.
Our Hotel Line are also rimmed plates and have similar sizes but the Hotel Line is a little heavier and a bit more durable.
There are also Coupe Plates and Gold Rimmed Plates, and Bone-China Plates all available and you can see them here on other pages of our PhotoPlates website.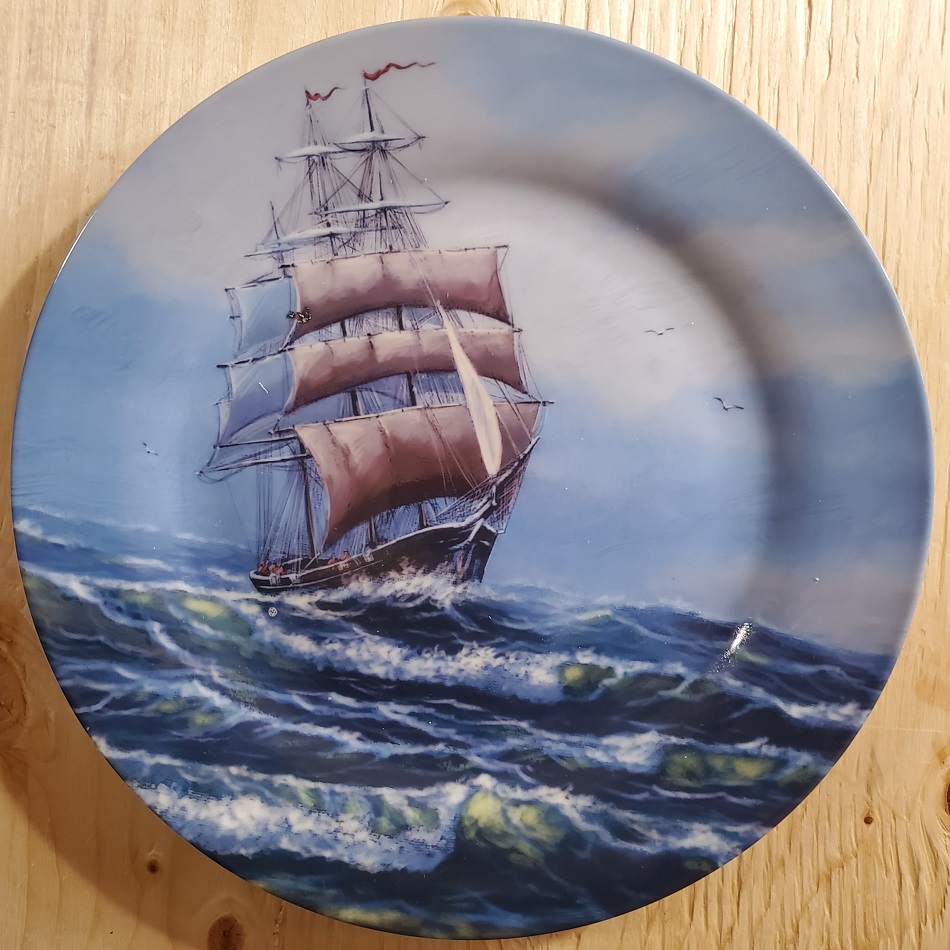 Full Bleed - Full Plate Coverage
These are dinner plates (same as the deer printed plates below) but full bleed.  We are printing continual face and rim.  Hence these could be your designs on photo plates (just for you).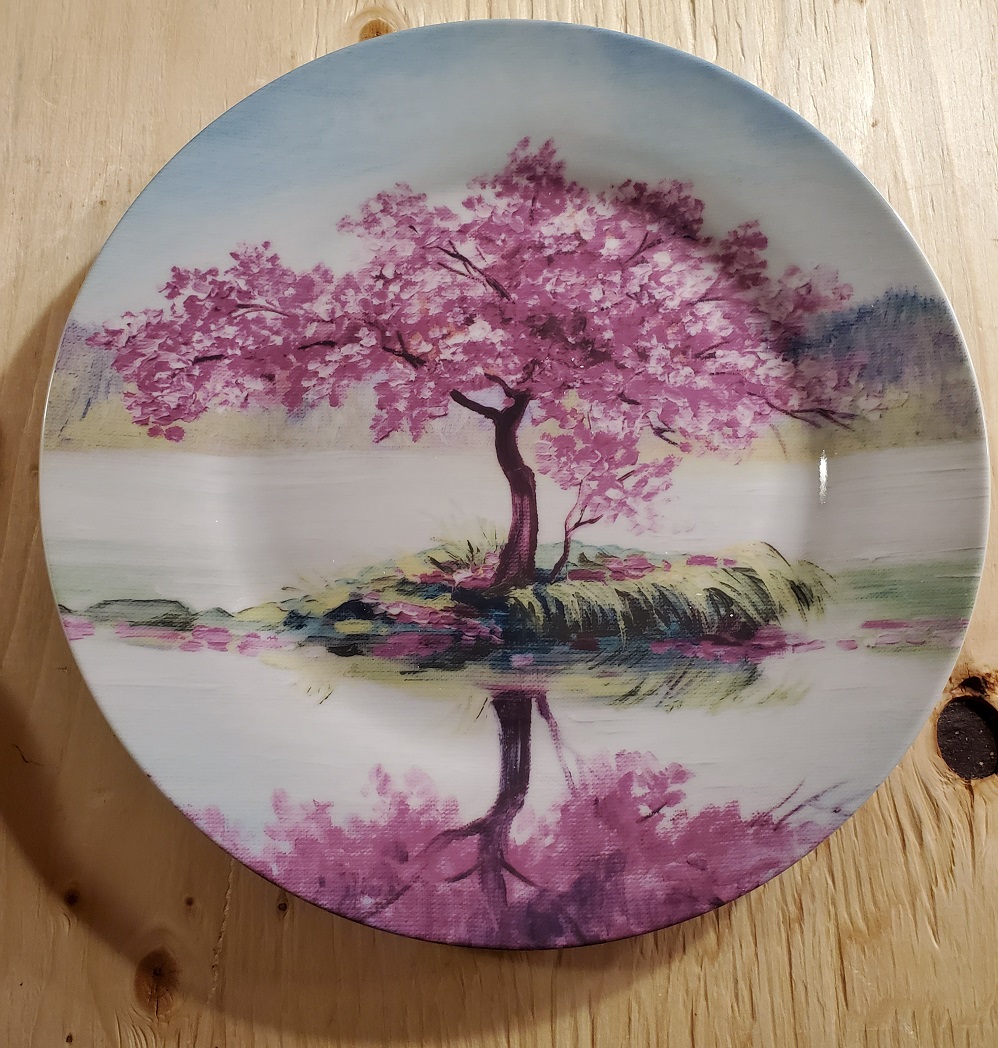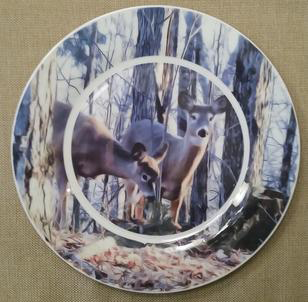 Same photo right and left. Right is zoomed in... see how the print makes a big difference!
Here is an example of where and how it looks on a dinner plate. Plates come in various sizes. On the left is a complete print, there is a small gap of white on what we call the "inner rim", this area can't be printed on. This area is different widths on different plates. On the right is the same image on the "face of the plate" or middle of the plate only. These plates are 100% food safe and dishwasher & microwave safe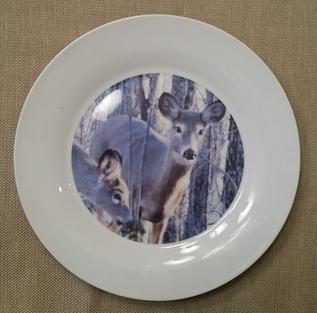 A note on main printing areas for photo plates:
Below you can see plates primarily for restaurants or hotels or business. We printed custom logos on these plates both rim printing and face printing.  Face printing is the middle of the plate (obviously where the food would go)  and then you have top rim, bottom rim, right rim and left rim.
Basically its face printed, rim printed or entire plate covered
Most restaurants and hotels and business that want plates printing, mostly like 80% or more, ONLY print on the rim of the plate and never the face.  Now we do both as you can see, but why do they print on the rim only?
Although you can print anywhere but if you are a restaurant or hotel, here are 3 reasons why you may want to only print on the rim.
This is the main reason, for instance, they dont want stuck food and gravy, really messy, now covering their logo. Even if the plate is covered in food or scraps/left-overs the printed restaurant logo always looks good!
When you stack the plates like as 12 inch charger below the 10.5 inch dinner plate, you can see the logos match up on top of each other. Note we make the logos sized so that the printed logo is smaller say on a dessert plate then on the dinner plate.
Lastly, although the print is under glaze thus very durable, it does by logic mean that it would last even longer because its not touched as much and definitely not used like it would on the face of the plate.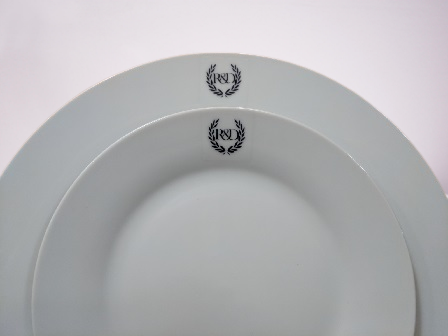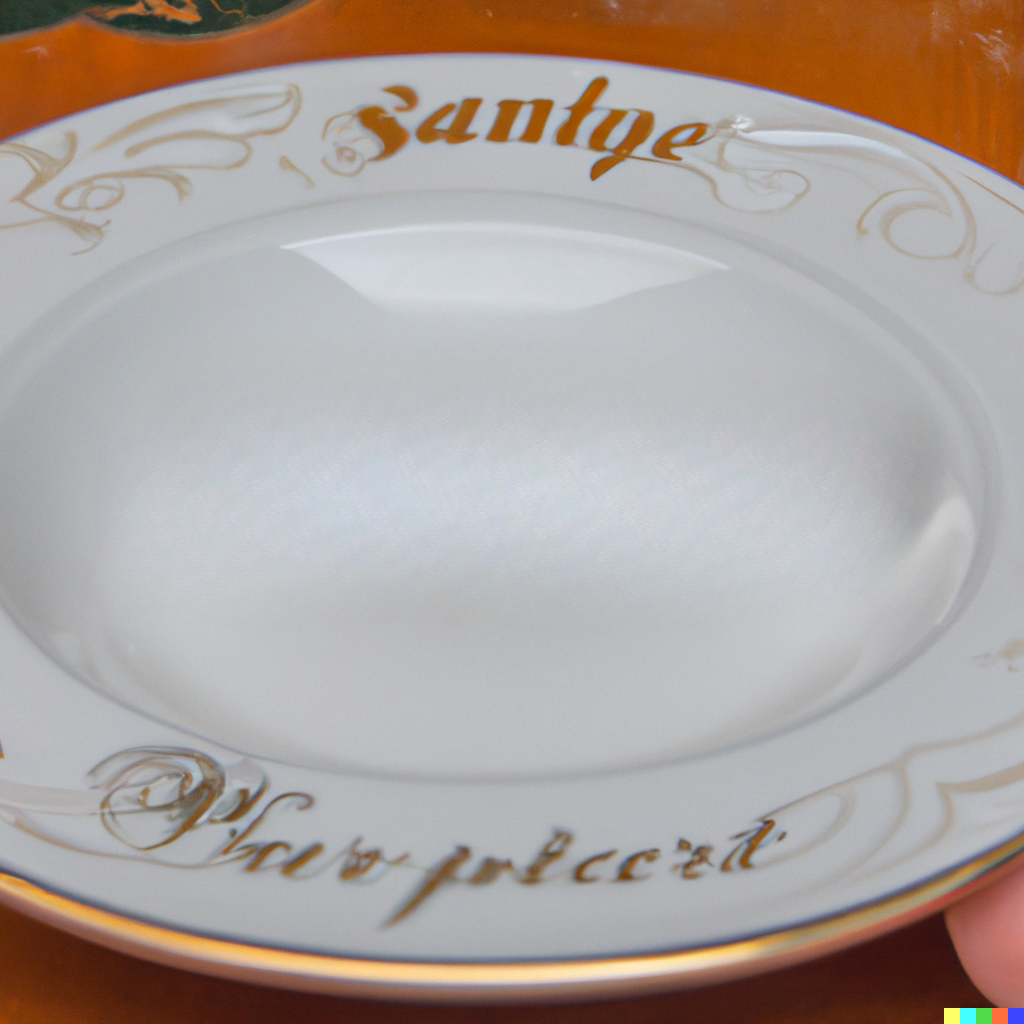 Printed On The Face (middle) or Rim, and not only English but other languages as well.
Remember MOST restaurants and hotels print their logo on the rim of the plates, because they dont want to see their logo "messy" with food or sauce/gravy etc.
People have asked us to print in different languages. Surprisingly, we can do it, we can print their photo plates in their tongue of choice but it is still tricky to do.  Whenever we print in a strange language (to us) we dont know exactly what we are printing, the meaning is lost. But if you give us the text or artwork we will copy and paste it into our printing system and it comes out on the other side amazing and we glaze it, with either one coating of glazing or two for more commercial applications.  We also double glaze floor tile see our custom printed logos on floor tiles and pictured tile for floor murals.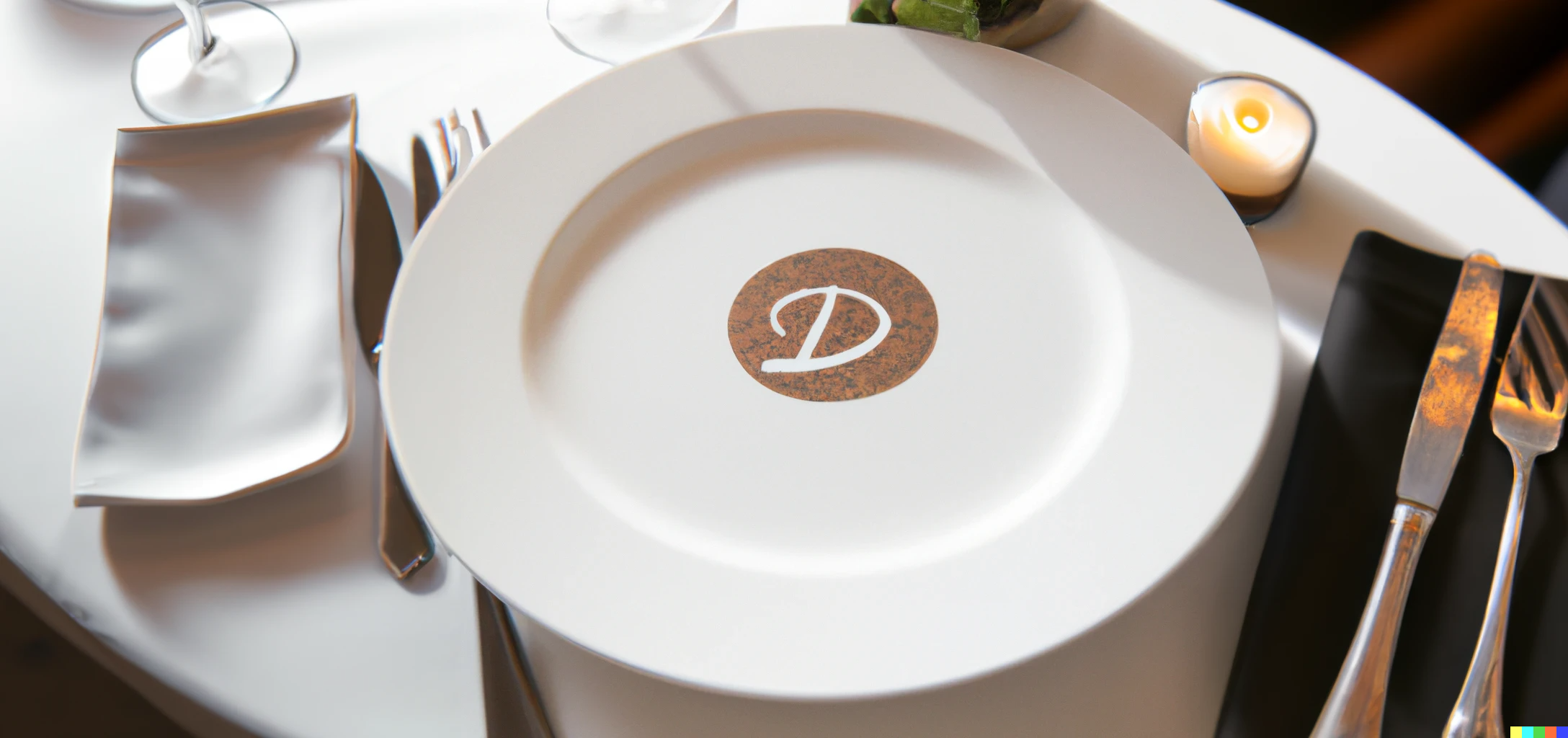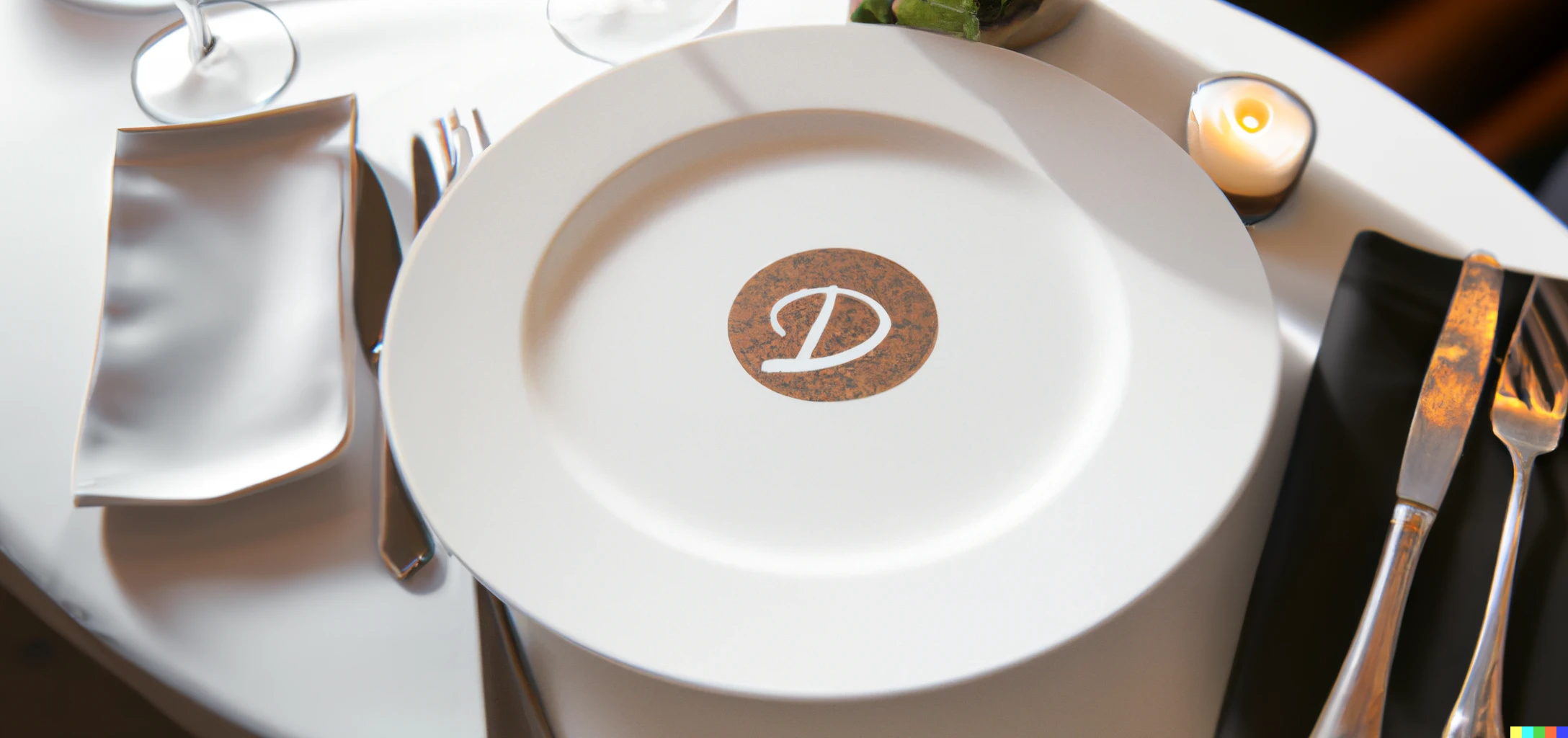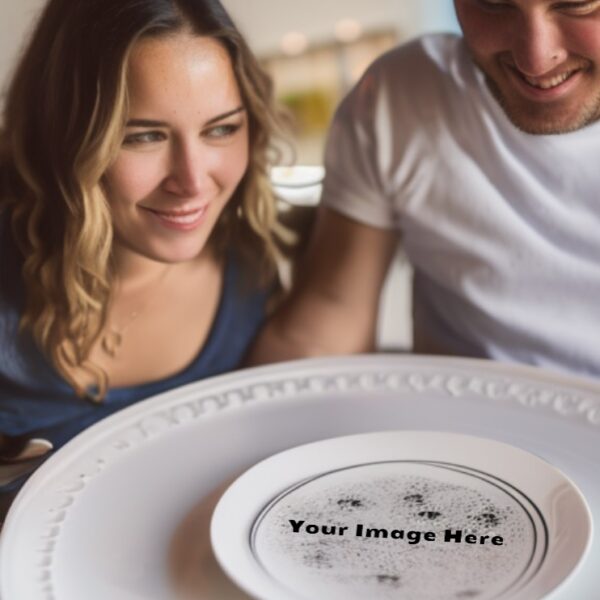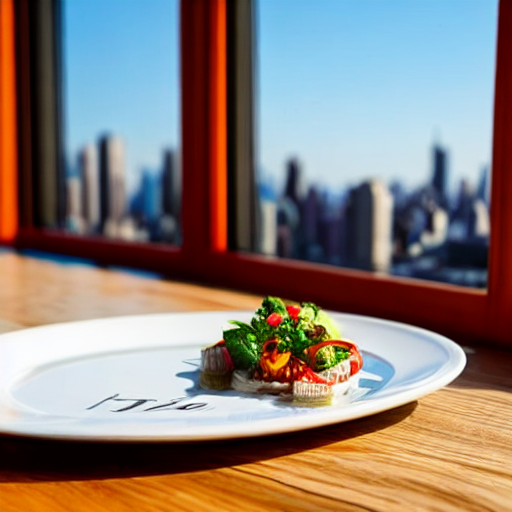 Our Plates Were Thoroughly Tested By A 3rd Party Lab
​We've also had our printed plates tested for lead and cadmium which sadly some foreign countries in places use. Lead is a stabilizer of color/colour and greatly helps with printing - but of course not good for dishware or the environment...and sadly we know it dangerous to your health.
Because we have no heavy metals in our print our plates are perfectly safe to eat off. Also because your image is under the glaze it is dishwasher and microwave safe.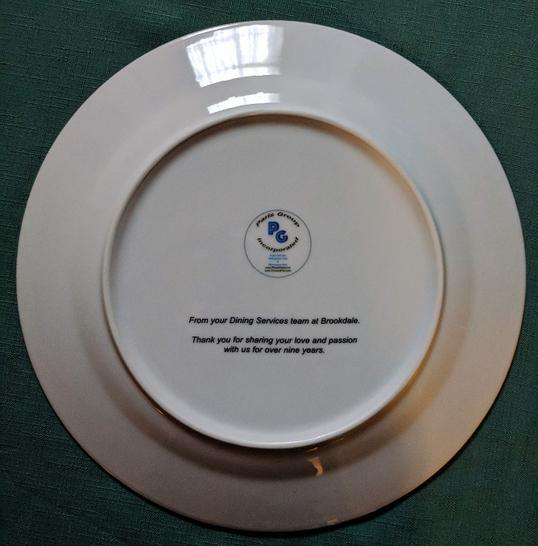 WE also sell wood frames, like these octagon wood frames for printed plates.
We carry different ones from time to time, currently we have a square one good for Chargers (plates that are 12 inches)
Wood frames are solid wood with walnut finish and with a glass front and black velvet backing
Price for frames based on 1 or more.
Call for a quote.
Toll Free 1 855 410 8797 or local call/text 416 410 897
Watch Video - about 1 minute long.  Need lots of these, call for quote.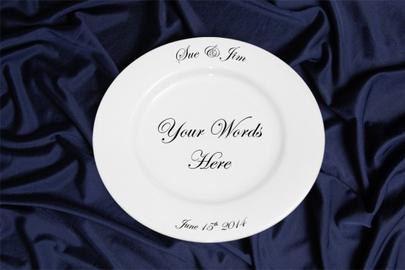 Printed & Personalized Porcelain Plates in all sizes.
Your logo or picture on the rim or the middle (face of plate). No minimum orders, but if you buy more the price does go down and we do offer re-selling opportunities too. These printed customized dinner plates come in all standard sizes.
Small 6.25 bread plates Also 7.5 inch side plates
And 8 or 8.25 inch dessert plates 9.5 inch dinner plates
10.5 inch dinner plates 12 inch charger plates
See all our various types of plates here Plate Inventory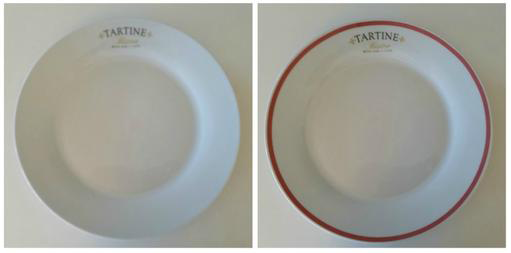 Printed Single Band Gold Rim In Black & White Too.
These plates are 24kt. gold with single gold band on rim. Printed in Black and White for older photographs or to make them look old. Comes in a few different sizes.
Custom Dinner Plates we made for Battalion Restaurant In San Antonio Texas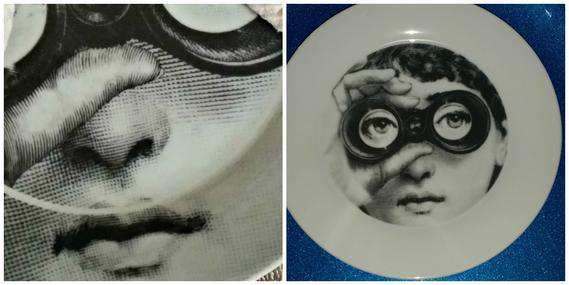 Printing your Photo Plate on the face only (middle) would be obviously less money to print, otherwise if you print the entire plate, it would obviously cost more.
Here is the same picture printed on the right, on the "face of the plate" only (or middle of plate).   Without rim being printed. They (Battalion Restaurant) were thinking about going this way, but decided to go the face & rim.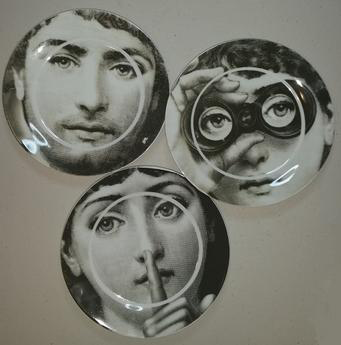 We created for Battalion Restaurant in San Antonio Texas (you should check them out, they are a very popular spot in San Antonio with delicious food.
They supplied these images, and we printed them on rimmed porcelain plates in black and white. We don't charge for color,  (we say colour here) but if you want black on white we can print it.
These are restaurant porcelain plates with the design on the face and rim.  There is a small "gap" between the face & rim where we can't print.
There were 5 plates in all, these were the most popular 3.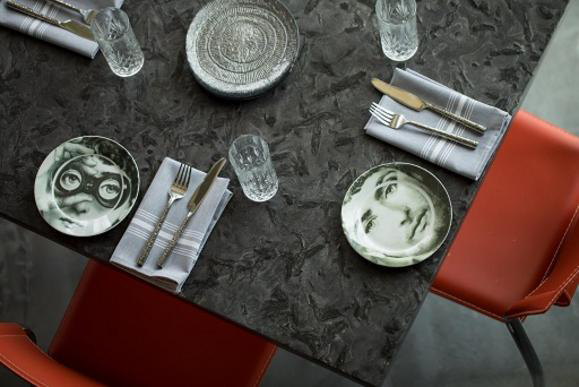 The Battalion Restaurant is a very unique place, because they converted it from a historic fire station, and made it a fine dining restaurant.
Thus the old fashioned ladder truck on the wall photograph.
Our printed custom dinner plates, made the way and printed the way they wanted with their photograph they provided.
Each printed plate on a place setting for the restaurant.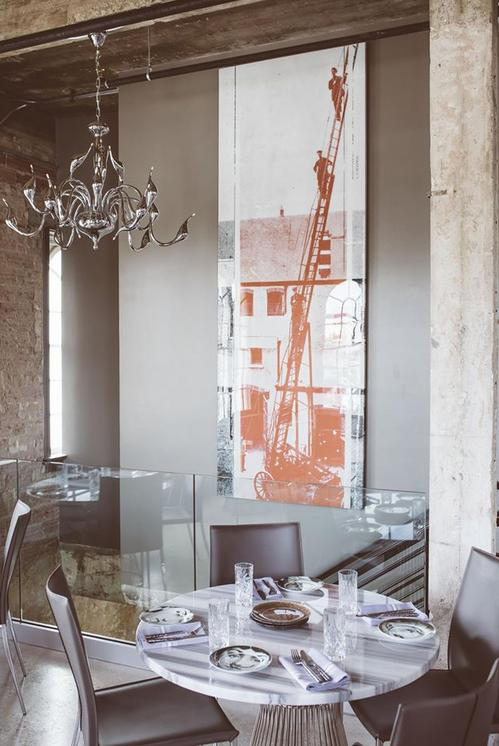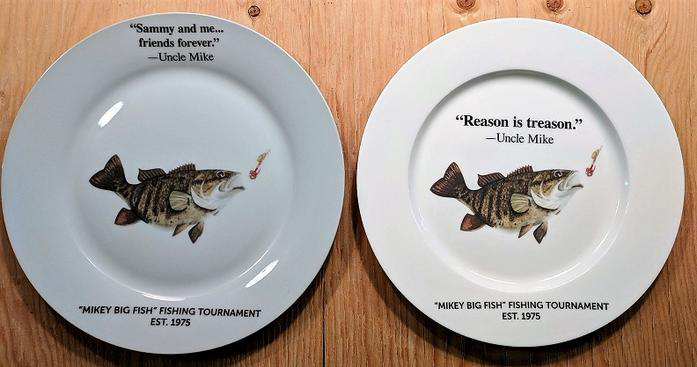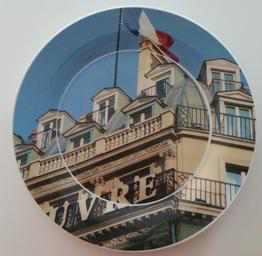 Left is a plate for a Shipping Cruise Line.
Right is a plate for the Crazy Plate Lady and Her Art Work of Bill Murray (that we printed)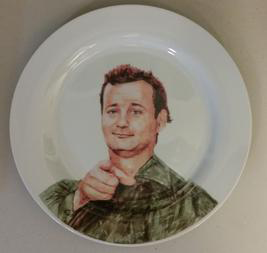 You can see two of our plates printed the one on the left is on a 10.5 inch Standard Royal White Porcelain Dinner Plate and the one on the right is a 10.5 inch Bone China (semi translucent) with Porcelain Dinner Plate.
Printed Photo/Logo For Restaurant, Catering or Hotel
Porcelain dinner plates with restaurant logo on the top rim and bottom rim.
Of course whatever picture or text you want and we can print anywhere (including the bottom/underside of the plate)
Standard Royal White 10.5 Inch Porcelain Dinner Plate
Bone China 10.5 Inch with Porcelain Dinner Plate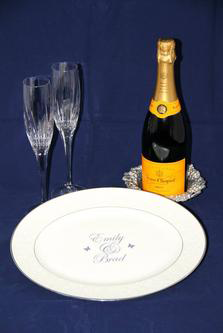 Double Gold Banded oval platters as well as the very popular Double Gold Banded round plate.
All with real 24kt gold on the outer and inner rims.
And then we personalize them with our permanent food grade ink text and design on each.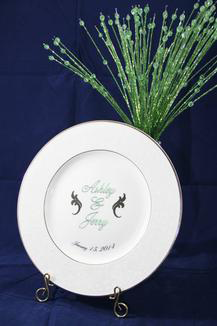 Monogram Plates - Simple Yet Beautiful
You can eat off of these plates but they are also perfect to hang on the wall and admire, choose whatever size plate fits your purpose. If necessary you can also pick between our selection of single/double banded gold rimmed plates, also platinum banded options available.
Or forget a standard rimmed plate entirely and check out our coupe plate lineup, with many sizes and even gold/platinum options possible.