Your Custom Printed Platters -  Porcelain Serving Platters Either Oval or Rectangular
Custom printed Platters, in various shapes and sizes.  These printed rectangular and oval platters are printed with your text or photograph in full color/colour and high resolution. Dishwasher and Microwave Safe.
We have various styles and sizes of Custom Printed Platters.
We can print one or thousands.
Food Safe - Dishwasher Safe - Microwave Safe
This particular platter comes in 3 sizes:
Model 6657 OP-10    10 inches x 6.5 inches x 1 inch height
Model 6658OP-12     12 inches x 7.5 inches x 1 inch height
Model 6659OP-15     15 inches x 10.25 inches x 1.25 inches height
Large Rectangular Custom Printed Platters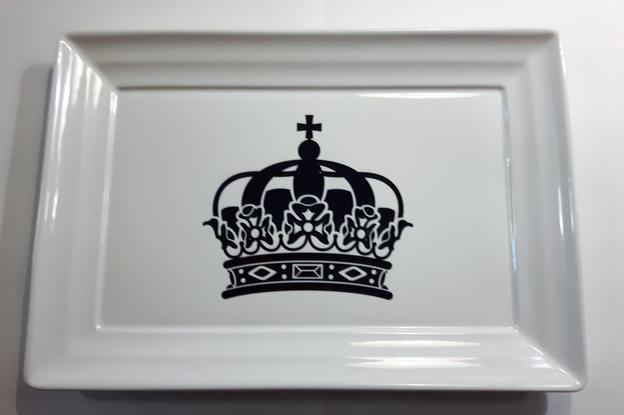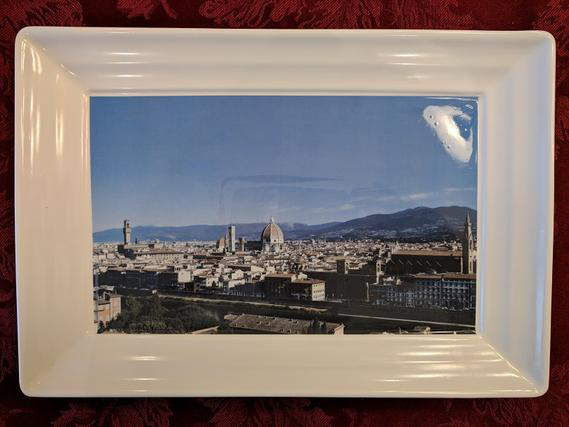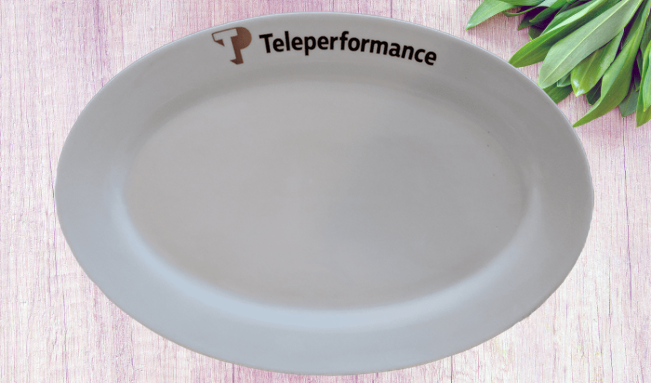 We sell these crown 14 inch porcelain rectangular platters. Great for serving platters for those special holidays.  You can purchase them from us, and add your own words or family last name to the back of the platters too
Note this platter with the Italian City Image is the SAME platter as the crown above.  See how the image changes everything!
Below are our hybrid platters, sort of rectangular with soft edges, these are not always available but check with us on availability.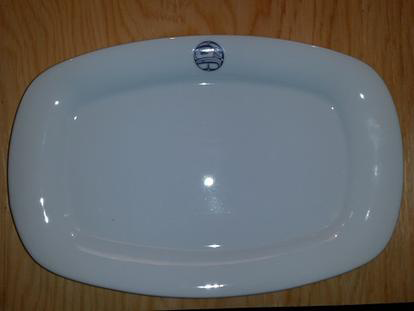 Custom Printed Platters for restaurants and bars/pubs are most of the time printed on the rim, usually printed on the top rim of the platter.  Most bars and restaurants do not want their image or logo, covered with food, or gravy or ketchup but if the logo was on the top rim, it never get covered and always can be seen and looks great.   But, just so you know we can print it, both ways.
This photo of our printed rectangular (ish) platter on the right is what we call a hybrid platter.  Its rectangular but with curved edges and corners. Not like the more defined rectangular platters that we have here.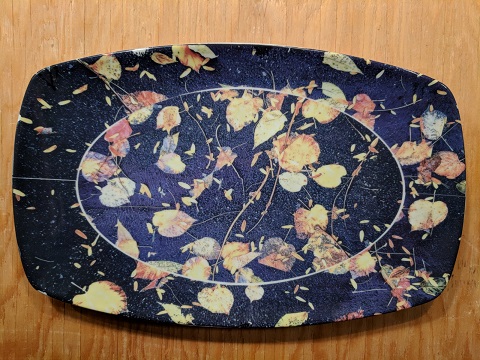 These are large and long porcelain rectangular platter.  Printed with abstract art.
Model 6616-16 is 16 inch long x 8 inch wide
Also Model 6618-18 is 18 inch x 9 inch wide
Below is a close up to the colorful detail on this platter.  Oh yeah, one more thing, its of course dishwasher and microwave safe.
Give us your artwork or photo. No Minimum order. Note this is printed vertically, most times platters are printed horizontally.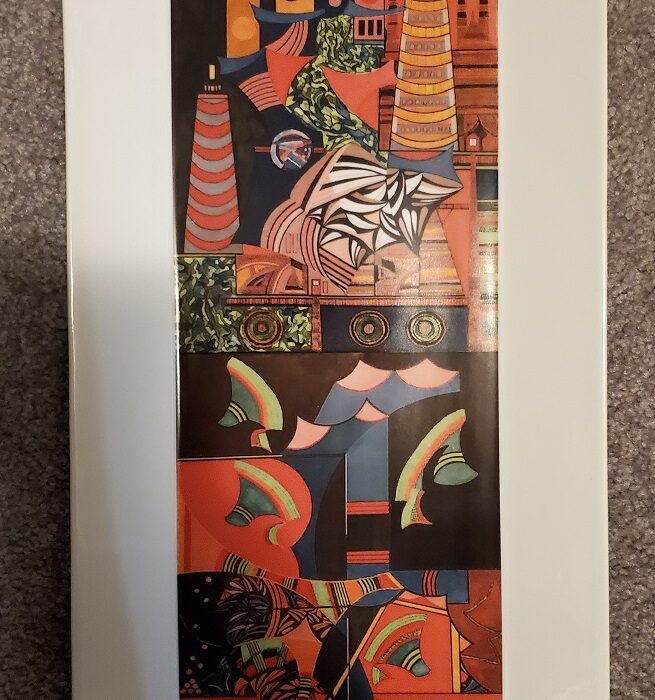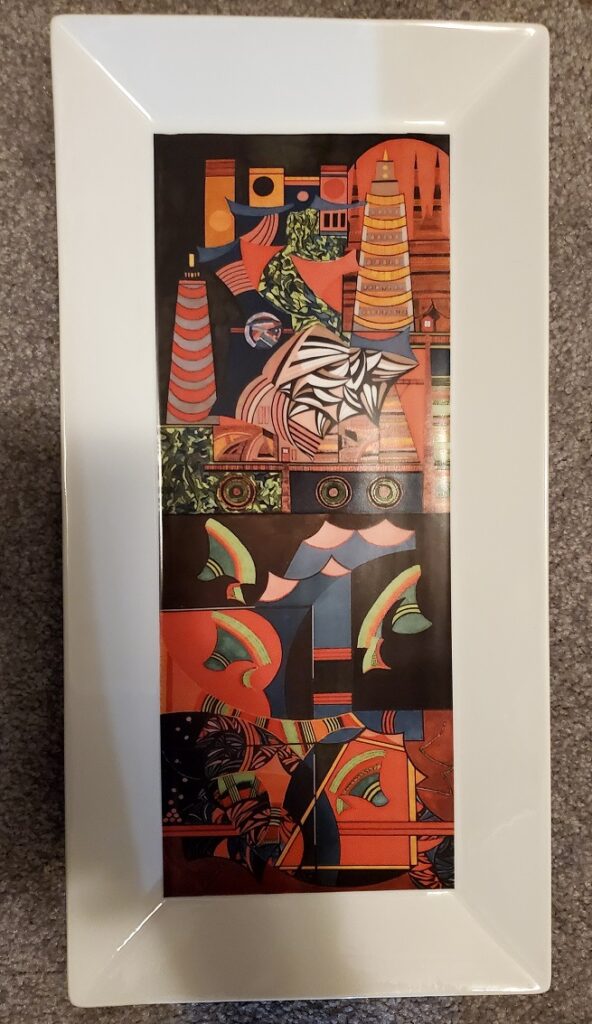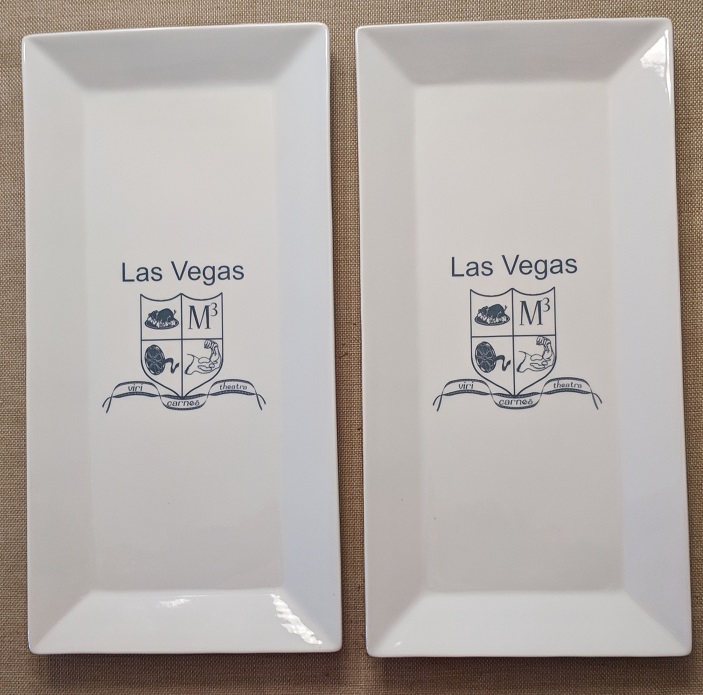 Platter Inventory Here (wholesale bulk prices not printed)
To see our lists of platters that you can print on you can go to our wholesale dishware site. Now this site is for our blank dishware sold in bulk.  If you see prices here its NOT printed but its sold full boxed and sold for $1000 or more minimum order.  But you can get any pieces you want if its for printing.  The plate or platter cost is only a small part of the over all cost of printing, glazing, labor and kiln firing needed for a printed platter or plate.
See more Platters platters (blank) here
Here is the main page of Restaurant Dishes
Custom Printed Platters, your restaurant logo or something for home. Your artwork and we print and glaze it so its dishwasher and microwave safe.
We print in the middle (face-of-plate) and the rims too.
Also the back or underside as well.Mo
Model 9500OP16  is our 16 inch x 11.5 inch (largest)
Model 9500OP14 is our 14 inch x 10 inch (medium)
Model 9500P12  is our 12 inch x 10 inch (smallest)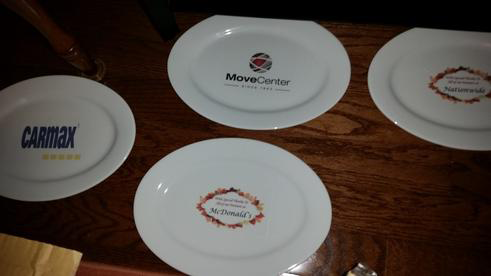 We had the honour/honor to print logos for the various Army/Navy/Air Force in both the US and Canada.
You can see more in the video of these printed dishes for the Armed Forces above.
In this case it was a variety of dinner plates, salad/dessert plates, printed bowls and mugs.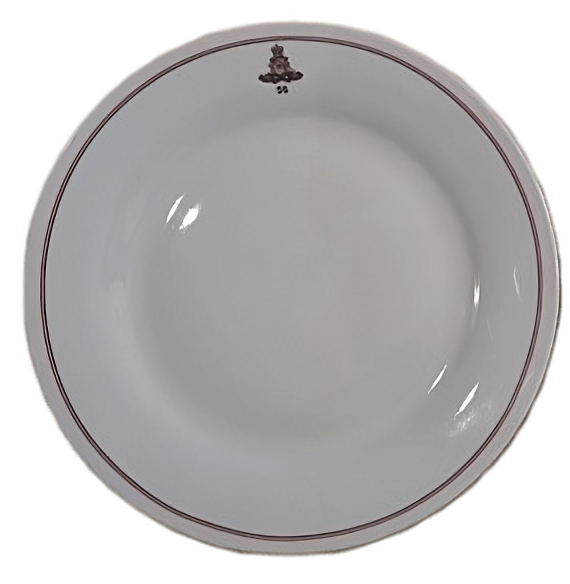 Although this rectangular platter for the Cystic Fibrosis Foundation looks large, its actually quite small.
Some of our small platters are great for gifts, also used as for candy, or a jewelry tray like rings, watch etc..
This one comes in two sizes:
J071521 is 6.5 inch x 4 inch
J071511 is smaller 4.9 inch x 3.5 inch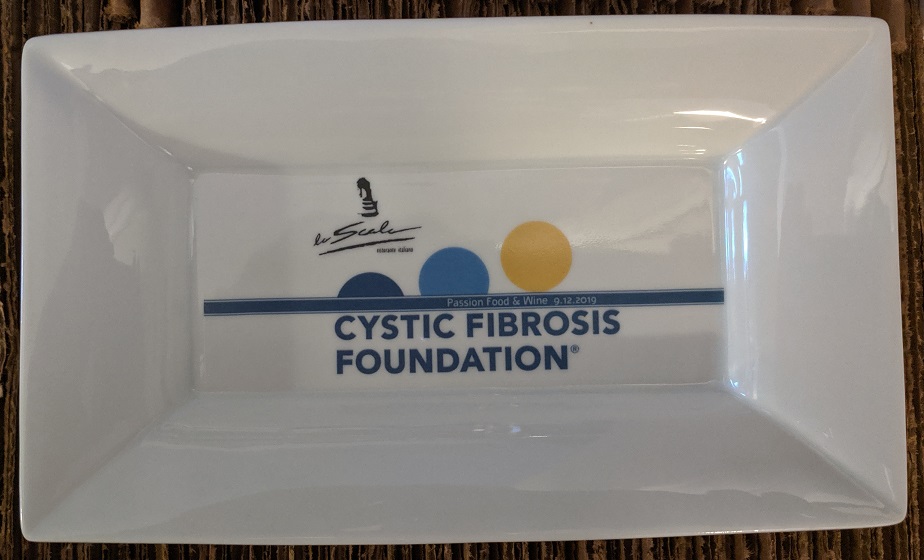 The oval platters we have are only 12" or 14" or 16" and the 16 inch is the largest.
But in the rectangular, they come in a variety of sizes some large and some real small like the one for Cystic Fibrosis above.
If you are looking for a certain size, we may have something close.
Call us 1 855 410 8797 ext. 1 or direct call 416 410 8797 ext. 1 or text us from USA & Canada 416 410 8797