Gold Rimmed Plates & Your Design = A Perfect Match
There are many different types and sizes of gold rimmed plates directly below is our black and gold plates with the crown...amazing!
With our printed Gold Rimmed plates, there are various styles and sizes that you can choose from.
This one below is a 12.5 inch charger double gold rimmed with black band.  We call it our black and gold plates. These plates are real special and expensive. The black bands (there are other colors available not just black) and gold are not printed by us but part of the plates original manufacturing. Of course we print the crown or image or monogram in the middle and print on the back of these plates as well.
Printed Gold Rimmed Plates
As mentioned these 12.5 inch oversized chargers are not just dinner plates because dinner plates are 10 or 11 inches normally but chargers are 12 inches and these are oversized-chargers with black and gold or green and gold or red and gold or blue and gold.
We print your image on the face or middle of these gold rimmed chargers.  Remember that our print is dishwasher and microwave safe but if you have these expensive plates and put them in the dishwasher, your print and image will be safe but the gold rim will start to wear off.  Also microwaving our print is not a problem but the metallic "gold" will or could start to arc in a microwave, so please hand wash these expensive plates and do not microwave them.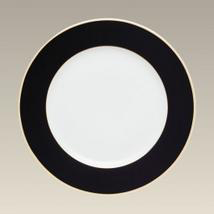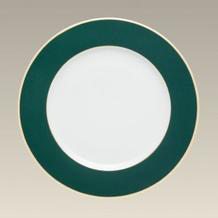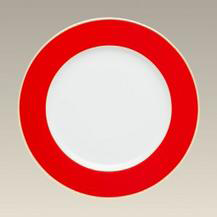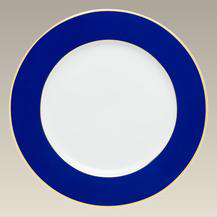 Double Gold Banded Printed Porcelain Plates
Very popular double gold banded plate printed front and back.
Often used as Anniversary or Wedding Gift but also as in this case a corporate gift for service or retirement.  Comes in 4 sizes
12.5 inch (charger) 10.5 inch dinner plate, 8.4 inch salad plate and 7 inch desert/side plate.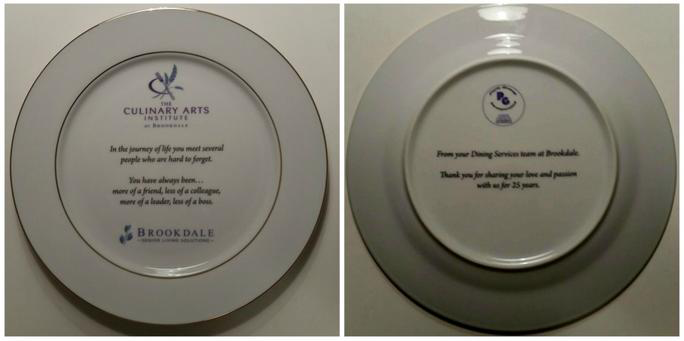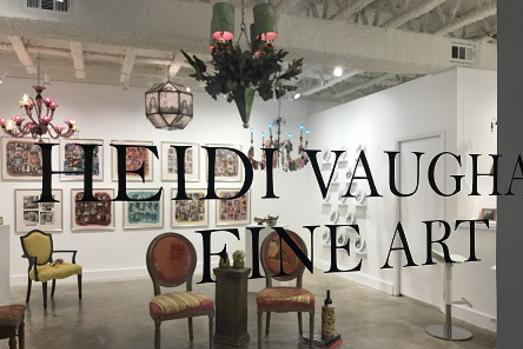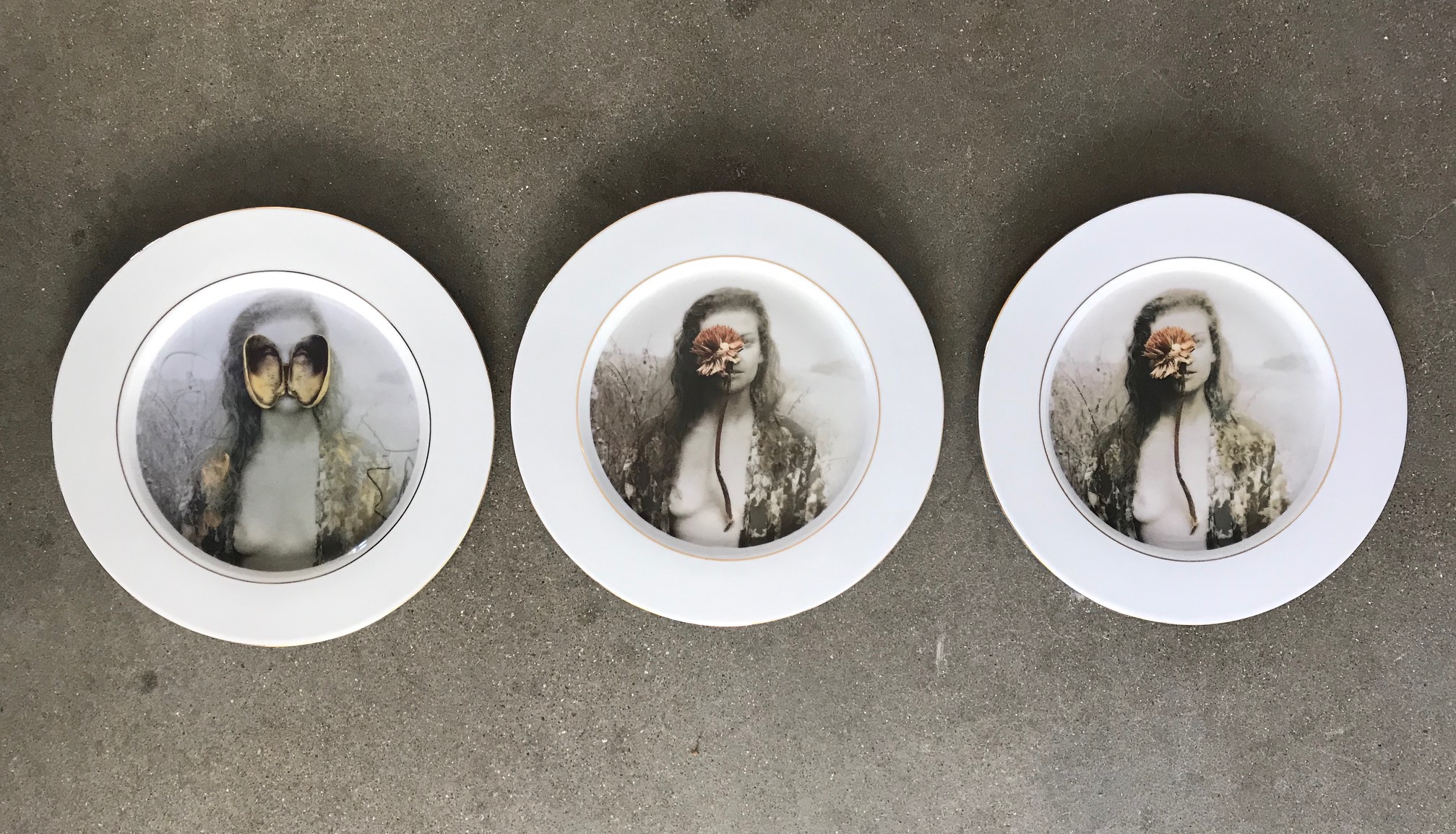 Heidi Vaughan Fine Art - Gallery In Houston Texas -with our printed dishes.
We printed dinner plates for Artist Mary Margaret Hansen.
Her creative and unique plates (you can see here but even better see them for real by a purchase from Heidi Vaughan Art Gallery in Houston Texas)
Our photo plates are on the right side wall beside the door.
Closeups below of our printed gold rimmed dinner plates.  These plates were all 10.5 inches which is a standard dinner sized plate.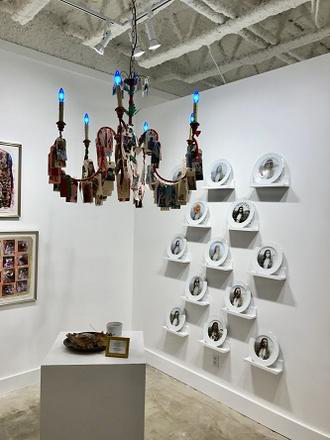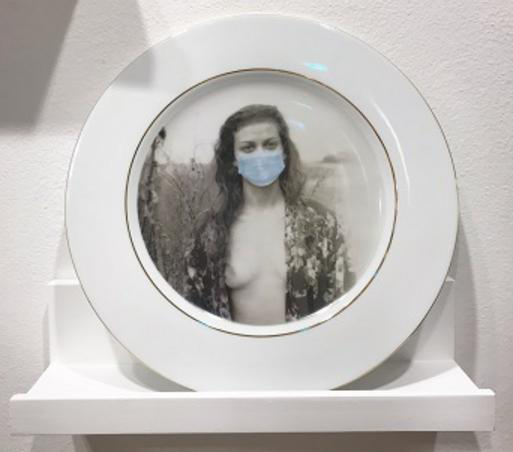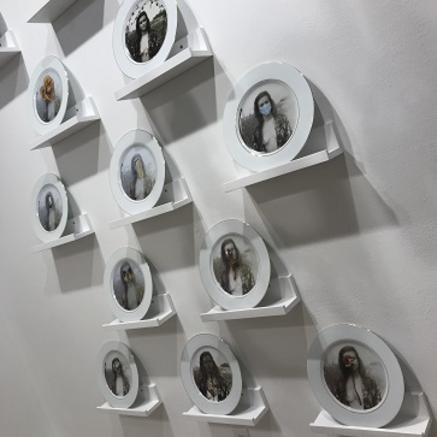 Spotify Album Launch Party for Ed Sheeran
For the launch featuring Ed's Butterfly theme they wanted double gold rim plates (just like above for Heidi's Fine Art) but 1 inch smaller. These are called small dinner plates or lunch plates.
We printed for exclusive guests of Ed in NY just about Christmas time 2021 over 200 gold dinner plates rather gold rimmed dinner plates with the well known Buttefly design.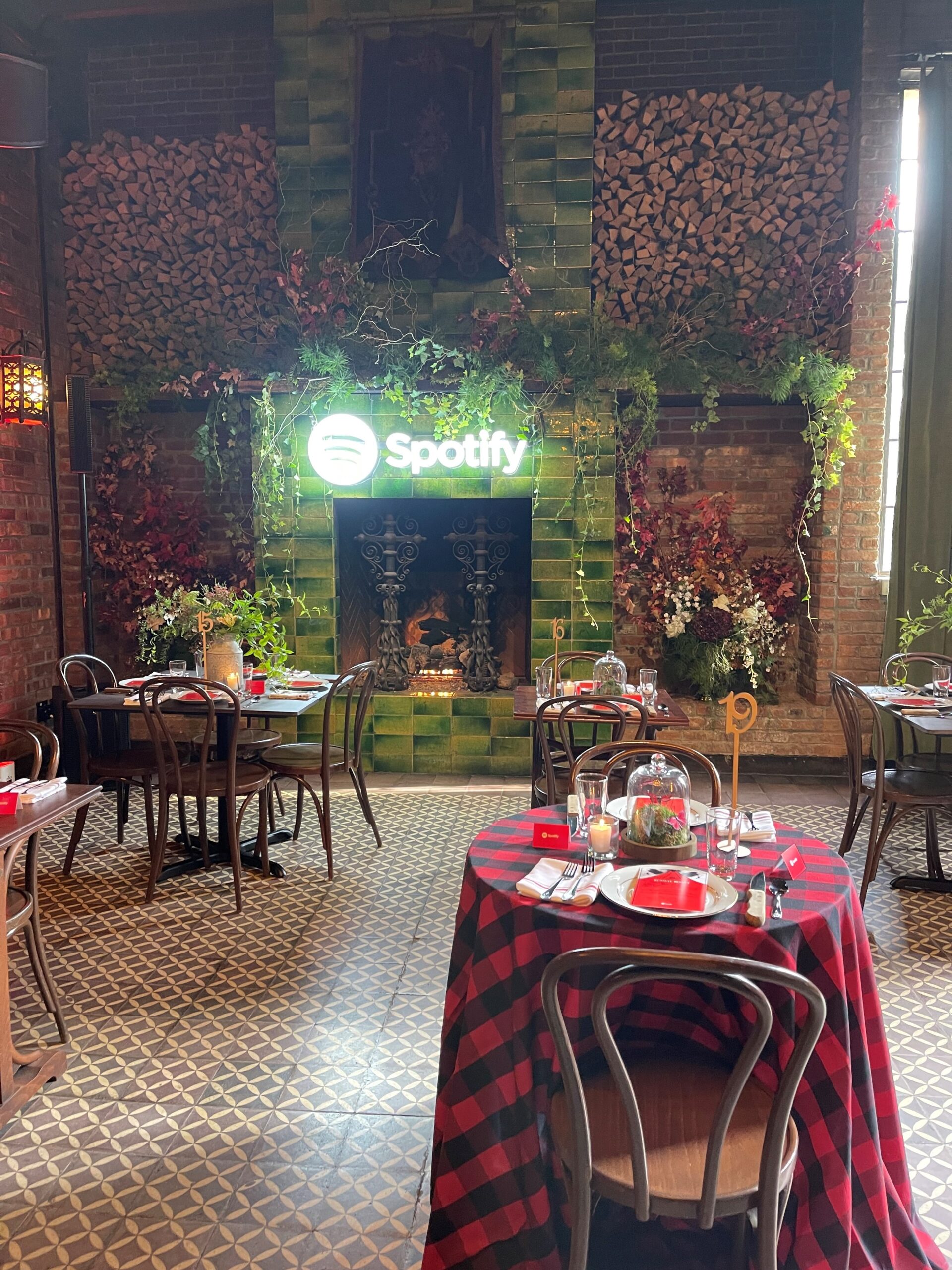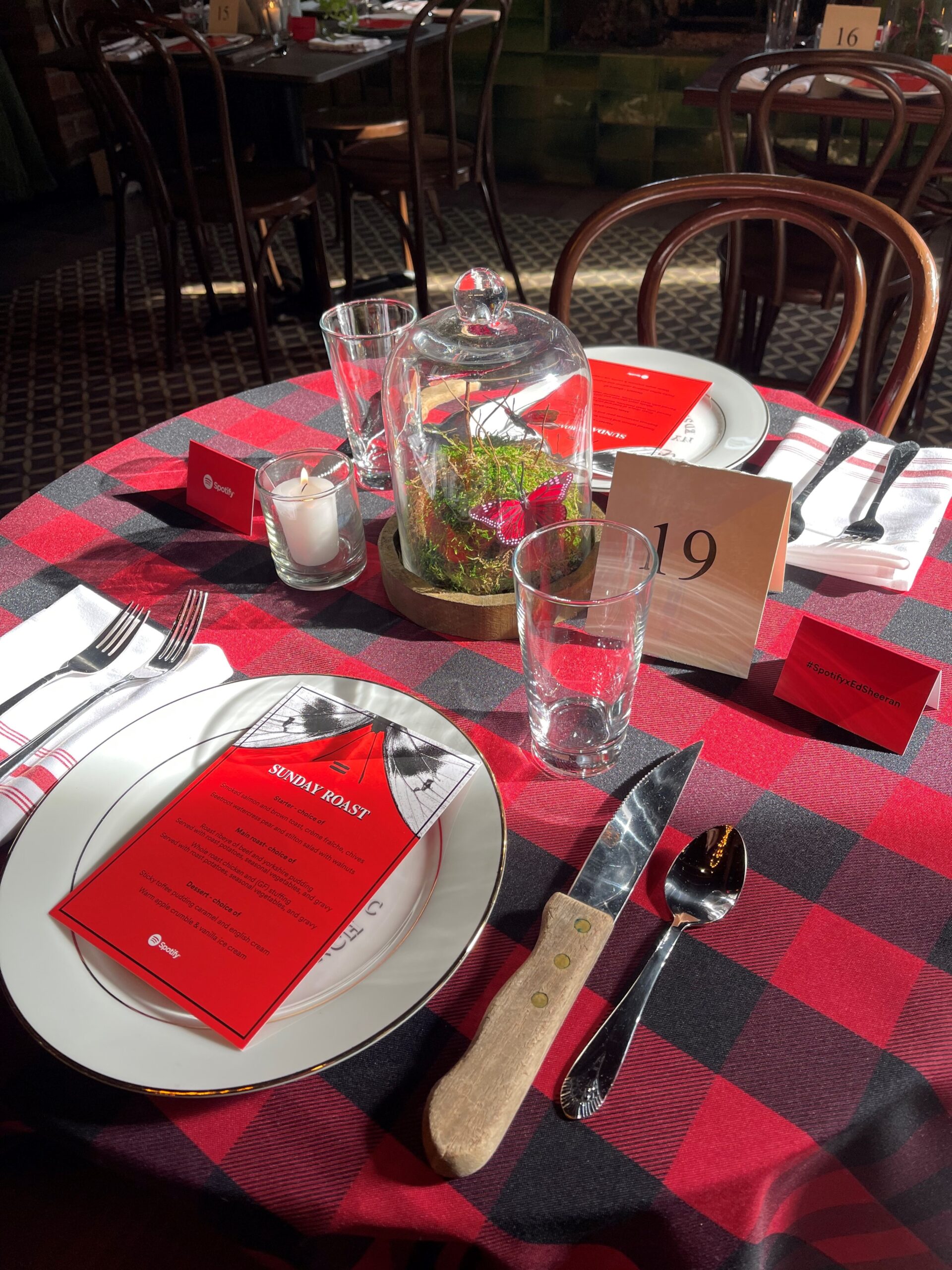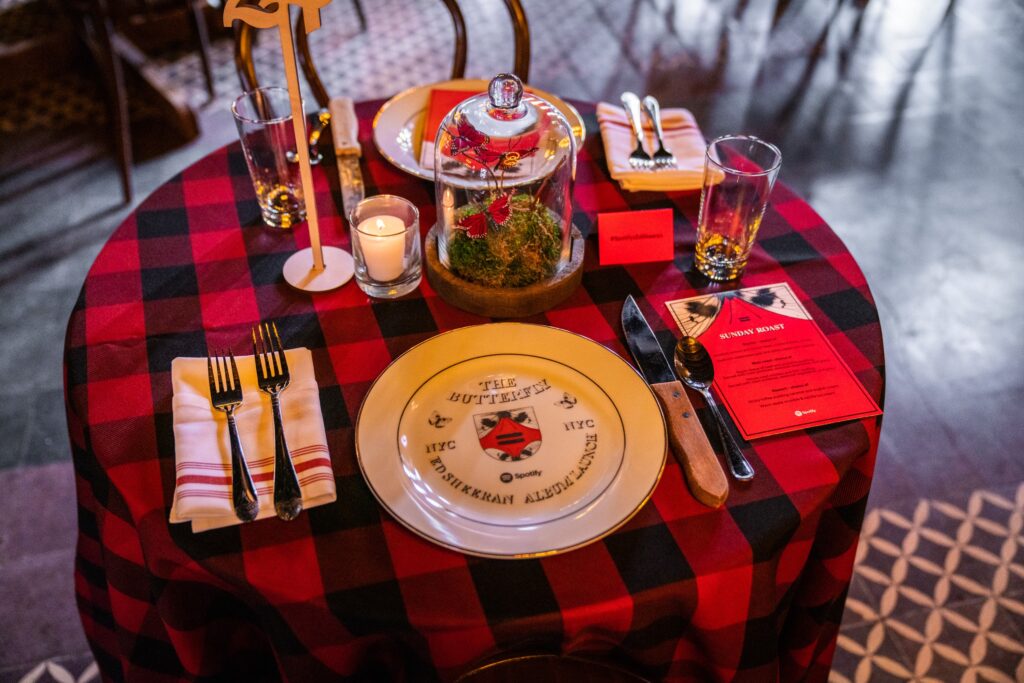 They had a front entrance display with the gold rimmed dinner plates sponsored by Spotify. Then everyone ate off the plates at their table setting of about 100 plus exclusive folks.  They then had their plate taken away and were given a gift box with a un-used gold rimmed plate to take home - it was a fun night for all and our gold plates with Butterflies were a hit.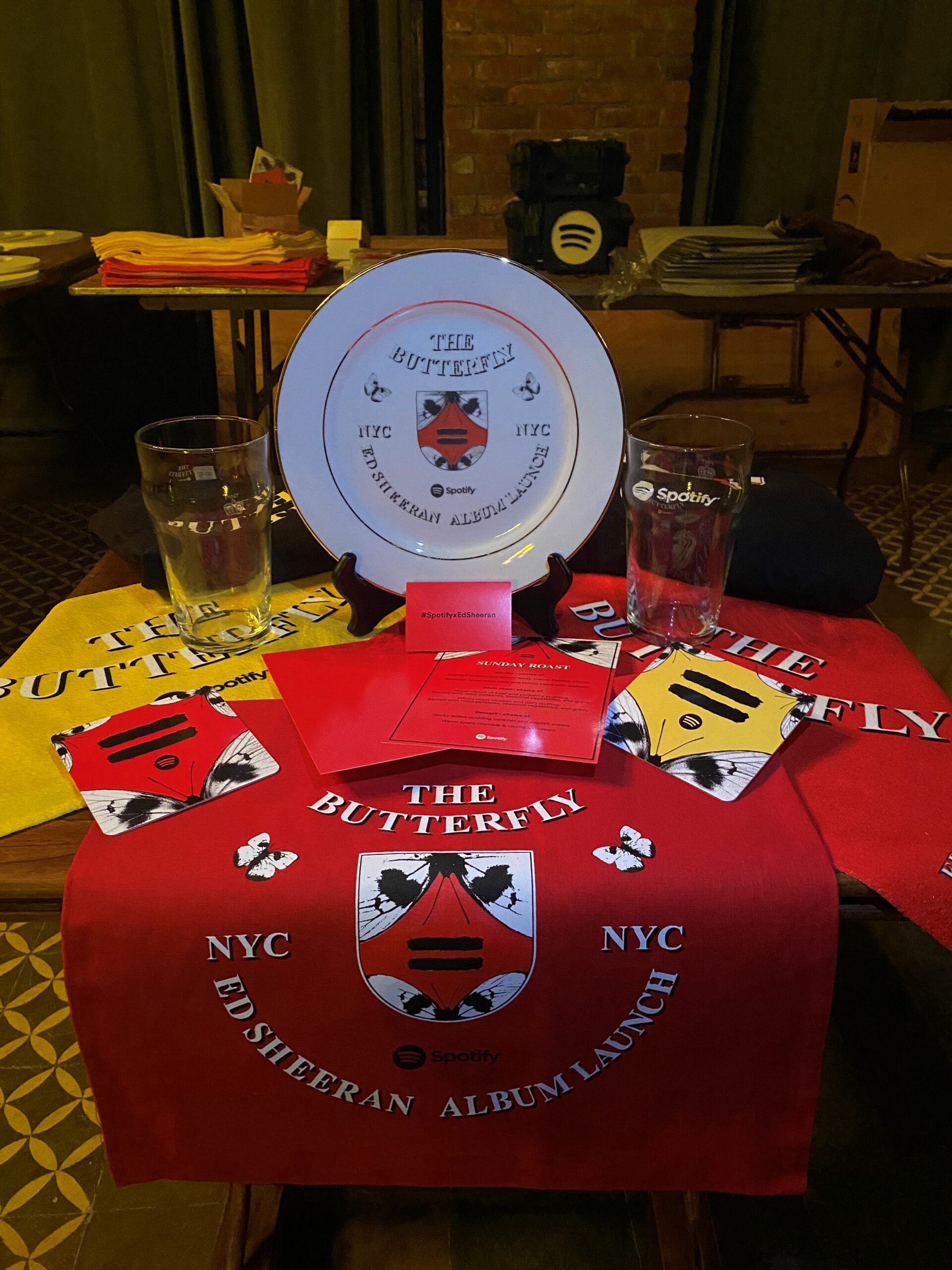 Newest Playboy Sophisticated Airplane - and our Gold Rimmed Bunny Plates Inside!
The Famous Playboy Jet with our Playboy Bunny Gold Rimmed Plates - truly one of a kind!
You can see the entire story here that is listed in Business Insider who did a full story on the famous jet and how it looked in yesteryear and how it is supped up and decked out today - with our unique printed dishware inside!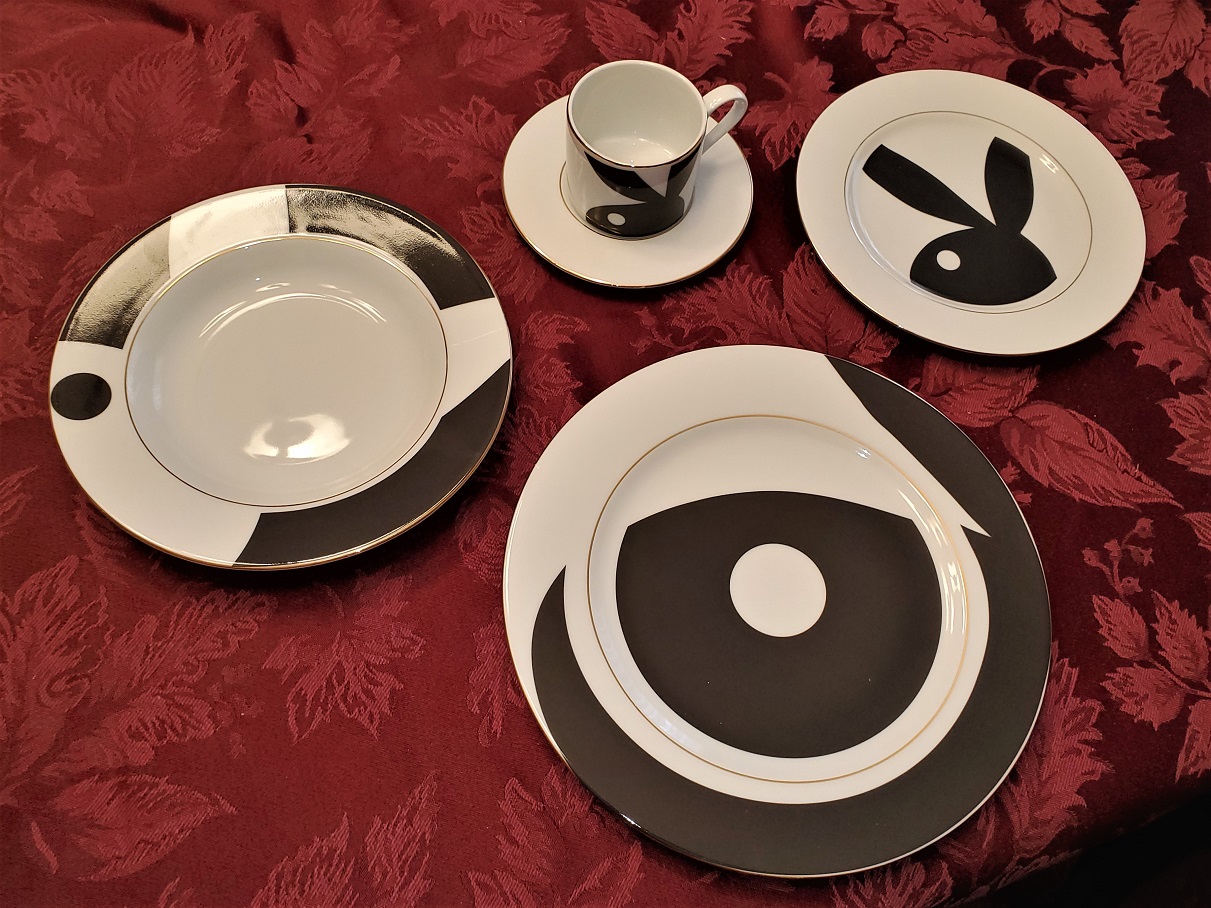 Gold Banded Printed Porcelain Plates Other Designs
Expensive Wedding Plates and Another Language comes together in LOVE.
These 24 Kt gold Wedgewood plates were brought to us for a Asian Wedding. How did we do it? Since we don't speak the language??  Easy...
Our Wedding Planner Clients gave us through email their exact wording that we could copy & paste into our computer system (so there is no mistakes or us re-typing words).
Also, these plates are not what we stock ourselves, so we had to test their plates first to see if it would work these were bone-china 24 Kt gold Wedge Wood Dinner Plates.  The 'test' works about 90% of the time, we do charge for testing and any breakage we are not responsible for.
These were from what we gather, words from the groom to his new bride, that when she received her plate it was covered in food (remember we are food-safe) and she didn't see or even think that hidden underneath her food were words she would never forget! Words her new husband just blessed over her that were revealed as she ate... Amazing!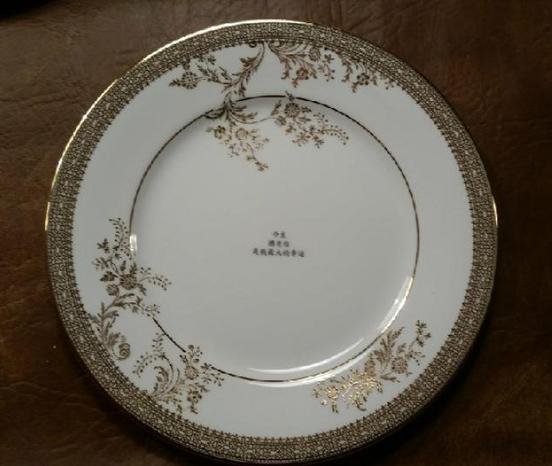 Single Banded Gold-Rimmed Plates with Plate Stand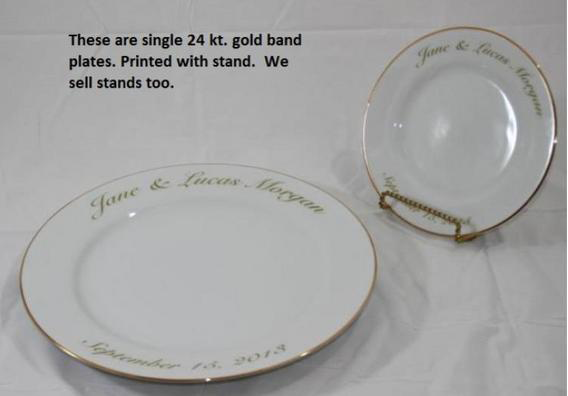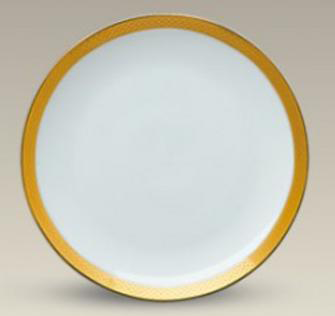 Single 8 Inch Gold Banded Plates
Single gold banded plates like the photo above are not as popular currently as the double gold banded plates are of today.
Gold Rimmed Plate on the left is now the only type of single gold banded plates available that we print on. These ONLY come in a single band but thicker gold trim on the rim. These plates are 8 inches we print in a circle about 6 inches in the middle.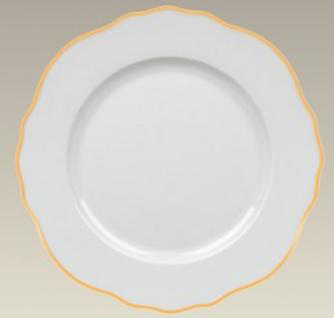 Gold Banded Scalloped Edged Gold Plate
Plate on the left is from the Bernadotte Collection and comes in 9.75 inch and 7.5 inch and 6.75 inch as well.
Custom ordered we bring them in as ordered.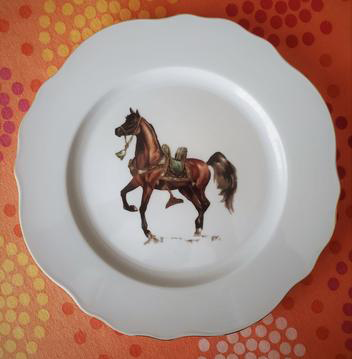 Gold Banded Scalloped Edged Gold Plate
This shows the same scalloped gold banded plate with a photo of a horse on the face/middle of the plate.
Short 1 minute (or so) video on Custom Printed Scalloped Gold Rimmed Plates
Some more examples of our printed gold rimmed dishware also gold rimmed platters too.