Custom Printed Cake Plates with Stands
Once Printed You Can Have Your Birthday Cake & Eat It Too
Your Custom Printed Cake Plates Here: (you can't get customized printed cake plates/stands no where else)
High Resolution & Color
Printing in full colour, up to 1200 DPI. Image is permanent - it is protected with glaze, so its made for durability. Your custom printed cake plates can have your own personalized image or text. They are  perfect for any wedding, engagement party, bridal shower, birthday party, or any other special event.
Orders & Timing
Order one or thousands no minimum order.
We also offer an additional rush service for events coming up in less than 2 weeks!
Note; some of the smaller ones like 8 inch and 6 inch are sometimes knows as printed pie or cup cake plates with stands.
If you just want plates printed (not cake plates with stand) go to Photo Plates Here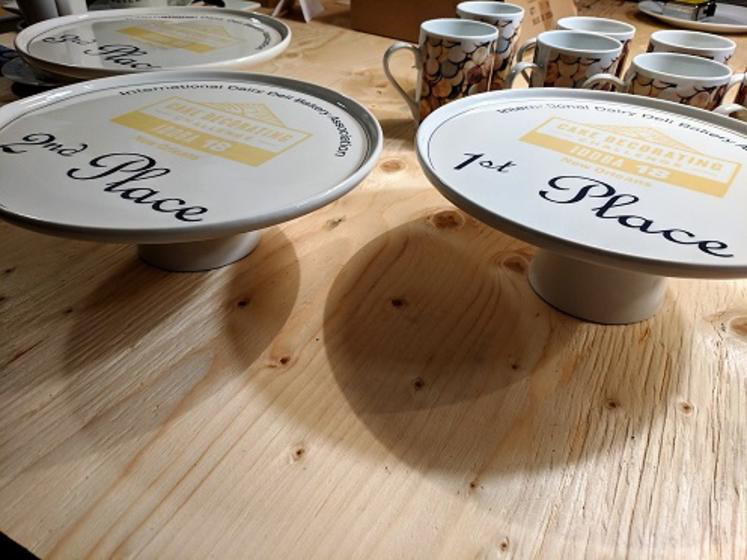 Some folks put their favorite recipes and some put their photos of the grandkids for grandmothers custom printed porcelain cake plate with stand.  Nobody prints cake plate stands in the various sizes like we do.  And when you print your photo or artwork on the cake plate with stand, there is no minimum order!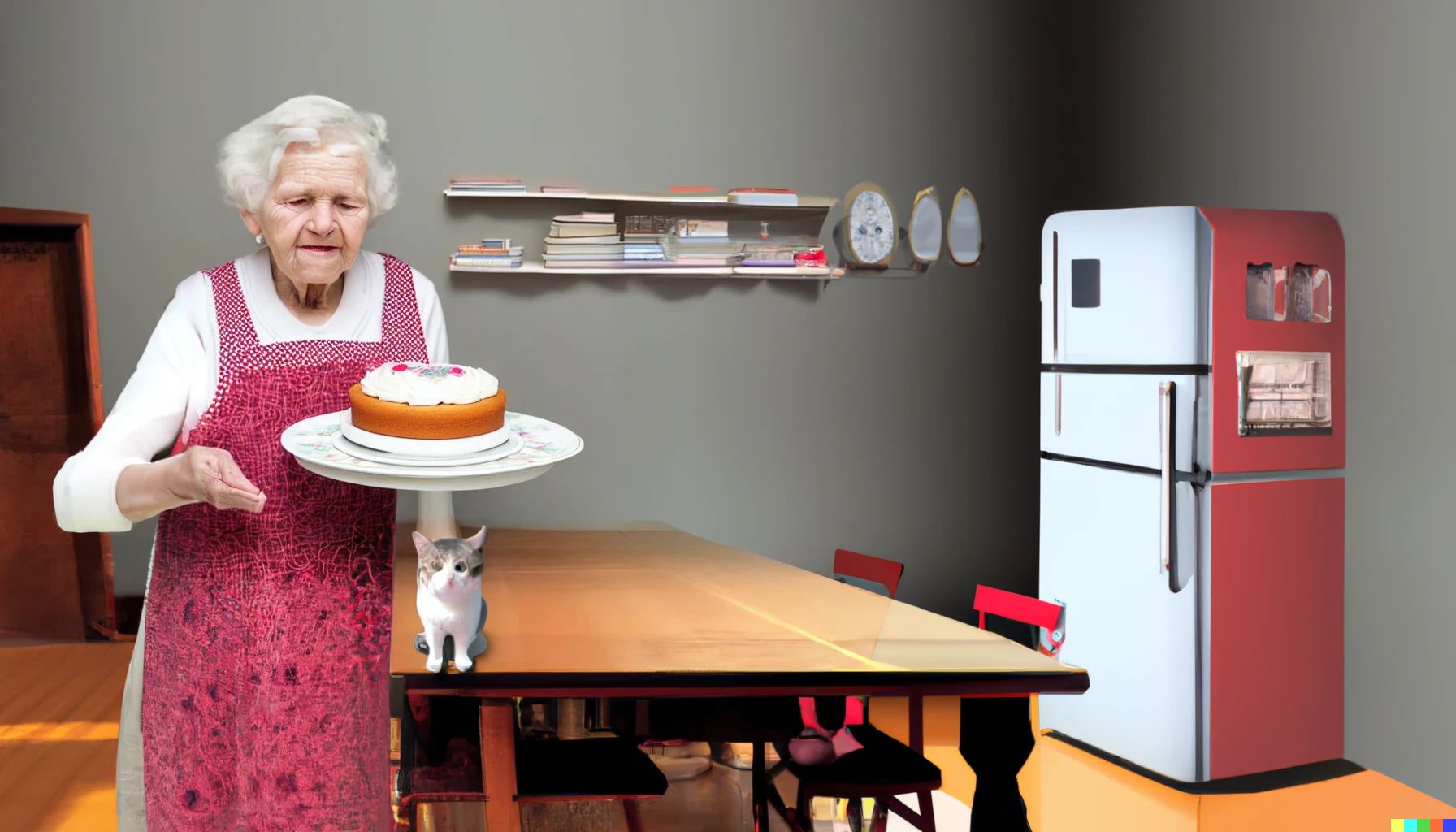 Some folks have the stands intentionally separate. You can balance your custom printed cake plates on the stand. We often ship them to you this way, because it cuts way down in cost when we ship it to you.
If you want to glue them, just use Gorilla glue used for ceramic or porcelain and then when it dries it is good to go. Now if you put the glued printed cake plate with stand in your dishwasher, the glue will most likely give way and the become separate, 2 pieces again.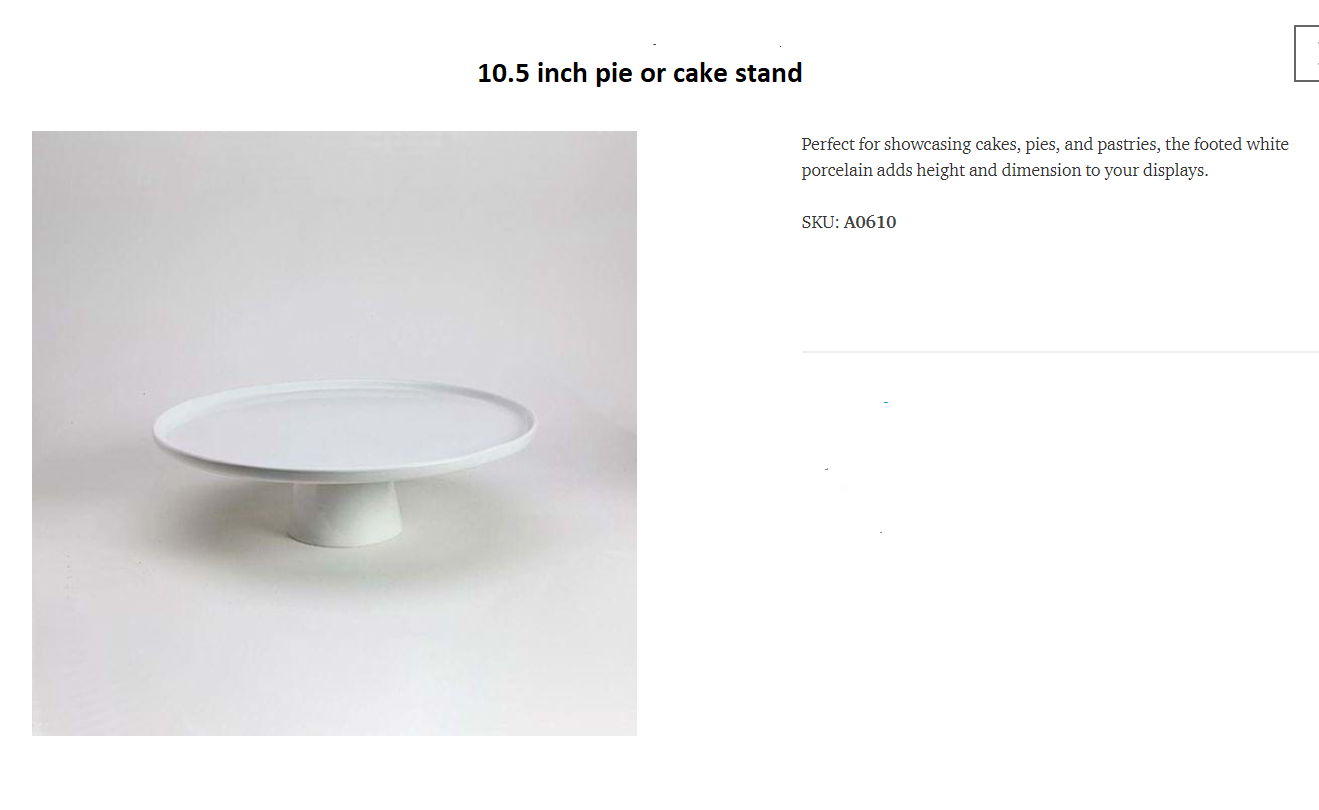 We carry 5 sizes of stands.  Usually we have 2 or 3 in stock of one or the other.  We print on all of them.
Sizes:

3.87 inch plate with stand for cup cakes. Model J075121 not usually stocked.
6.25 inch with stand Model J073941 sometimes stocked we can often bring them in.
8.25 inch with stand. (not always in stock)

10.5 inch with stand. Model A0612  most popular often stocked.

12 inch with stand Model A0610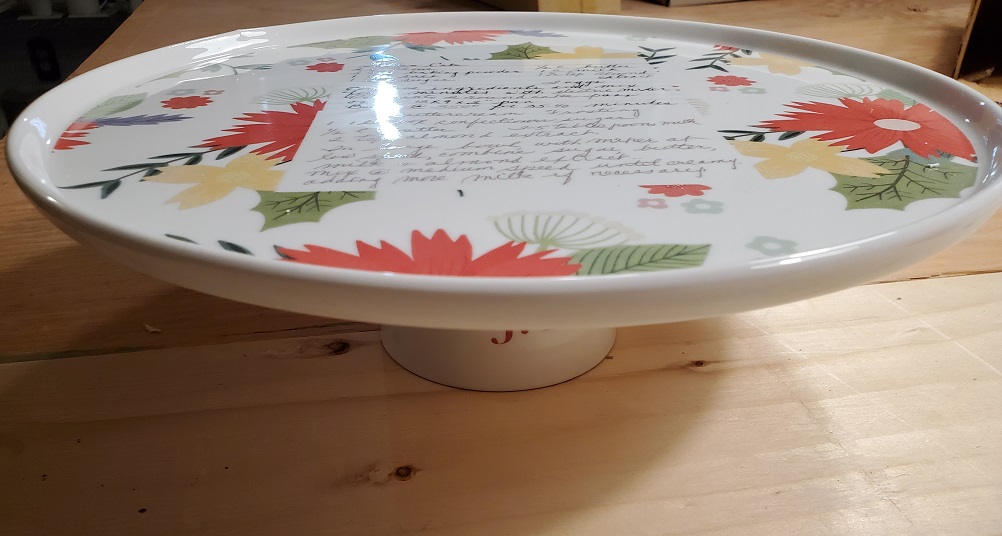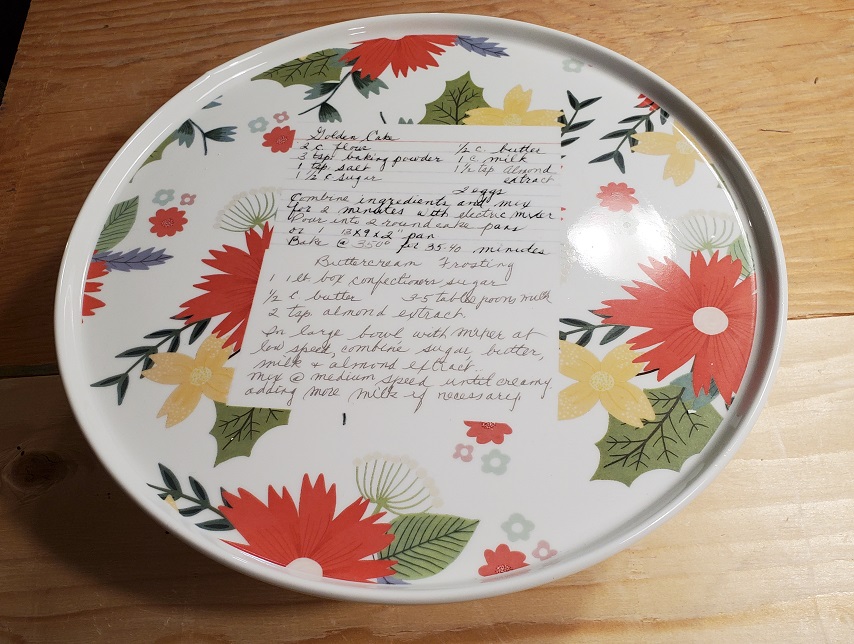 Call Us Or Text Us
Toll Free 1 855 410 8797 ext. 1 or local call or text 416 410 8797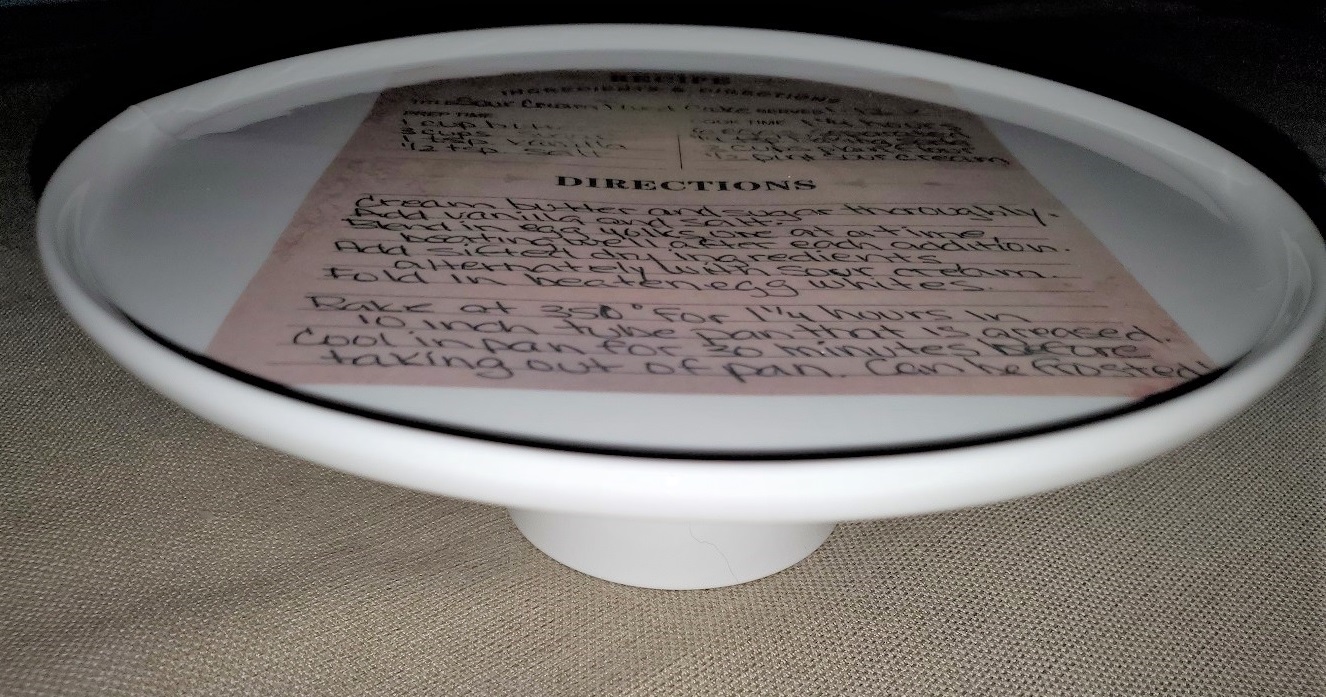 Recipe's Printed On Cake Plates With Stands
Got a favorite recipe?
Print it on a cake plate/stand and not only is it beautiful and unique, its 100% useable.  Just hand wash and use it and never forget Mama's old but tasty recipe.  Note: Hand wash not because of the print but because of the glue holding the plate to the stand.  It will become un-glued in the heat and pressure of a dishwasher.  If it does come un-glued just buy some gorilla glue for porcelain or glass (white preferably) at any hardware store.
Once the cake plate and stand is printed; we can ship it in one or two pieces. It is in 2 pieces when we print and glaze it, then it has to be glued with Gorilla Glue (for porcelain/glass) together.  The reason we do not glue too many here is because the shipping is less by shipping in two pieces as well as less chance of breakage.  If you want us to glue them and ship them in one piece, just ask otherwise 2 pieces and you can glue them yourself (its easy)
Note: Because of the glue, cake plates with stands shouldn't be put in the dishwasher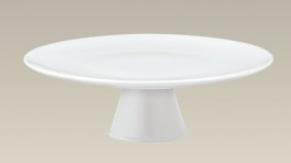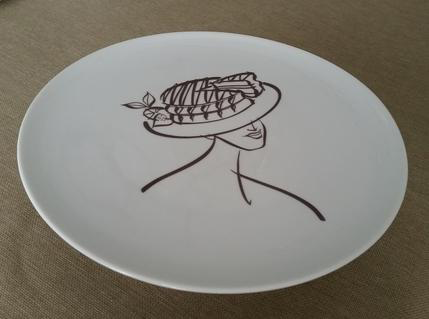 On some of the stands we can print a small logo or name if needed. Ask us if you need a family name or logo on the stand or underside of the cake-plate?
Proud to supply printed cake plate stands to La Rocca Cakes 
They make our favourite cakes, and with the good ingredients too!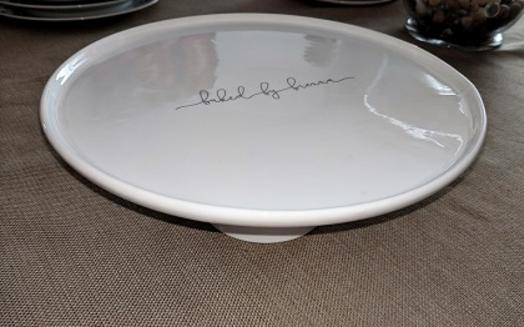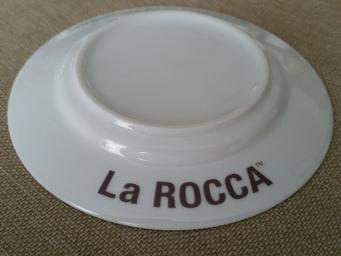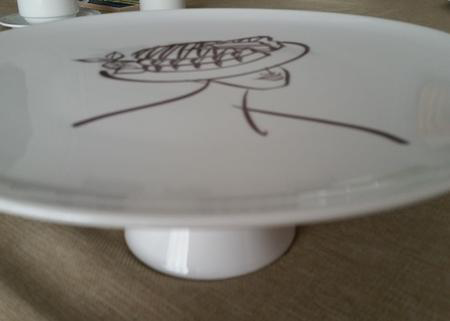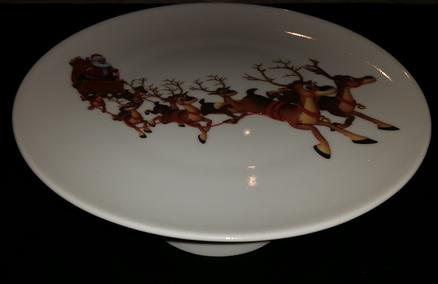 Personalized Christmas Cake Plates.  Or put your Christmas theme on your own set of dinner plates - create any design or photo you like. We have no minimum orders!  Our orders ship around the world and are one piece to thousands. All our printed dishware is food safe and dishwasher and microwave safe!
We do lots of Christmas theme Cake Stands, also Wedding Cake Plate Stands as well.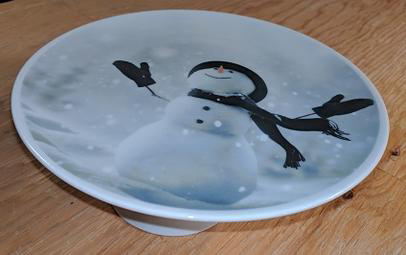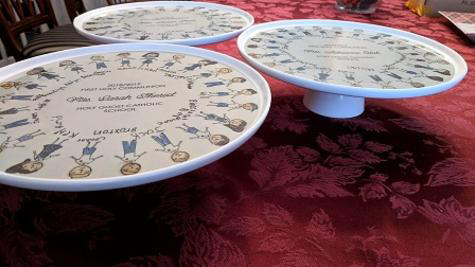 Children's drawings personalized with their names all around the cake plate, and the school name and class name printed in the middle. We can do fund raising with dinner plates, mugs but also these cake plates!
​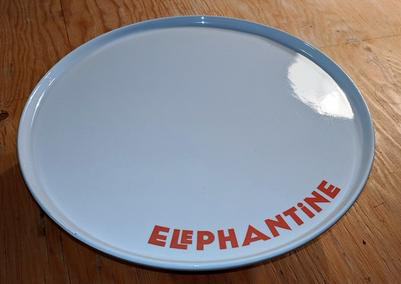 When in Portsmouth New Hampshire check out Elephantine Bakery (you won't regret it) 
​https://www.elephantinebakery.com/
​See All Our Videos: https://www.youtube.com/c/LPartanenParisGroup
To see our list of wholesale prices and (blank) cake plates
where you can have us print on the cake plate in food safe and dishwasher safe ink.